About Diplomat Safes
Diplomat Safes Ltd was founded in 1982 in Busan, Korea, and has built a reputation as a leader in the production of quality fireproof safes in Korea and the world.
Diplomat Safe Headquarters and factory are now located in Noksan National Industrial Complex, in Busan, which is the centre of modern manufacturing in Korea. Diplomat safes are supplied to more than 100 countries around the world including Australia.
Diplomat prides itself on the development and distribution of high quality fire proof document and valuables safes. All safes utilise the latest in digital locks and are manufactured using high quality steel.
Importantly Diplomat are regularly reviewing and updating their range of safes to ensure the consumer has access to the most advanced products available.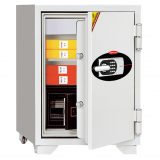 Why choose a Diplomat Safe?
RANGE
A variety of sizes and optional features to suit your specific requirements
QUALITY
The highest standard of quality in construction and design
PROVEN PROTECTION
Trusted and used by governments, retailers, banks and insurance companies
PEACE OF MIND
Full manufacturer's warranty with national after sales service and support, 24 hours, 7 days a week